Felice Newman Interview, Author of The Whole Lesbian Sex Book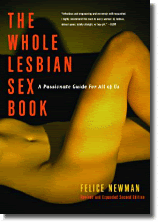 This interview is dedicated to Barry -- one of the most "liberal" conservatives I know.
Blogging has opened so many doors for me, one of which has allowed me the opportunity to
interview
people like
Alison Bechdel
,
Andrea Ratkovic
, and
Vickie Shaw
. I'm delighted to add sex educator
Felice Newman
to my short, but talented, list.
ST
: How did you begin your career as a sex educator?
FN
: I got into sex ed through
Cleis Press
. Many of the really great sex guides, erotica collections and other books on sexuality and gender have come from Cleis Press. I educated myself, through
San Francisco Sex Information
, which has a 55-hour volunteer training, and
Body Electric
, which offers classes in hands-on erotic massage. I learned from our authors: Violet Blue, Tristan Taormino, Patrick Califia, Annie Sprinkle, Staci Haines, Carol Queen.
By the way, that's how I came to write
The Whole Lesbian Sex Book
. I kept waiting for that book to land on my desk at Cleis, but no one wrote it. So I did.
ST
: Briefly describe what one should expect in a coaching session.
FN
: Oh, I strip 'em, throw 'em onto my massage table, and shove my fist up their pussies. Just kidding! I help my clients create sex lives that really work for them. I want everyone to fully enjoy sex. I combine basic sex education with somatic bodywork (fully clothed). Through coaching, breathwork, self-observation, and simple movement exercises, I guide clients toward the new skills, practices, and understandings that will have them be thoroughly delighted with their sex lives. A lot of this work can be done on the phone.
ST
: Why does someone go to you?
FN
: I had a client who had never been present during sex with an intimate partner. One-time hook-ups were no problem, but as soon as she settled into a relationship, she couldn't be in her body during sex. She'd go off in her head, have difficulty reaching orgasm. A few months of working together took care of that problem.
People come to me for a lot of reasons. Want a list? Here goes: they want to get their sexual needs and desires met, they want to invigorate their libido, they want to talk to their partners about what is or isn't working, their partners don't want as much sex as they do (or vice versa), they want to try something new, they don't understand why or how they get triggered during sex, they can't sustain sexual interest once a relationship moves beyond the early stages of dating, they have difficulty reaching orgasm, their sexual functioning has been impacted by depression and/or the antidepressants they take to alleviate it. Some are survivors of sexual trauma.
Here's a wonderful reason to come see me: you and your partner are getting married and you want to design a sexual partnership that will not just last but get better over the years.
I think Lesbian Bed Death is bullshit, by the way. Not that it 'happen, just that there's nothing uniquely lesbian about it. And naming it as a phenomenon has made it rather self-fulfilling. That's not necessary. If you and your partner have stopped having sex, and you want to get the juices flowing, I can help you make that happen.
ST
: What percentage of your clientelle is heterosexual, bisexual, gay, lesbian, and transgendered?
FN
: Most of my clients are lesbians, but I also see heterosexual men and women.
ST
: We had a debate on SistersTalk once in which we discussed the possibility that women had just as many -- if not more --one-night stands as men did by the time they were 35. Care to weigh in on that?
FN
: If it's true, it makes me very happy!
ST
: In your "Whole Lesbian Sex" column, you've written about everything from lesbian fellatio to anal massage for lesbians. How do you decide what you will write about?
FN
: I wrote the column on lesbian fellatio because your readers requested it! Sometimes conversations with clients get me thinking about things, like the recent column on masturbating with a partner. (Which I recommend highly.) My partner often inspires my writing - watch for the Valentine's Day column and you'll see what I mean.
ST
: Did you notice the new lesbian sex therapist (played by Kate Clinton) on The L Word looks like you?
FN
: No way - I don't have a red ball on the end of my nose.
ST
: I meet lots of lesbians who have an aversion to strap-ons. The typical comment is "if I wanted to be with a man, I would just do that." Any comments?
FN
: Everyone is permitted a preference. If you don't like the sensation of penetration with a dildo, strapped on or not, that's fine. Go for what you do like. However, if you are passing on strap-on play because it's imitative of heterosexual sex, you may be missing out on something pleasurable. As Susie Bright said many years ago, fucking is no more heterosexual than kissing.
ST
: On your website, you have a link to LesbianSTD. It's my belief that lesbians are just as susceptible to STDs as straight women. Would you agree?
FN
: Yes. Lesbians are particularly susceptible to herpes and HPV. We can also share bacterial infections, so if your honey has a vaginal bacterial infection, you should get checked, too.
Update:
10/04/08 - Don't miss our live interview with Felice Newman on
SistersTalk Radio
. Bookmark us today!
|
#
|
Interviews
and Tag:
felice newman
,
the whole lesbian sex book
. Word of the Day:
predilection